A rare Islay beauty from Bruichladdich, this will challenge everything you think you know about peated whiskies.

Made from 100% Scottish mainland Concerto barley
Finished in first fill French Sauterne wine casks
Matured entirely on Islay for five years
57.3% ABV with a touch of Octomore Spring water added
OCTOMORE IS ALREADY A SPECIAL WHISKY.

Imagine then, what happens when that super heavily-peated malt gets partial aging in coveted French Sauternes casks? "Ok," I hear you thinking, "but the wine cask-finished x.2 Octomore is always limited to travel retail (aka Duty-Free) and I'm not doing a lot of traveling right now…"

Not. This. Year.

For the first time since 4.2 "Comus," this year's Octomore 12.2 will be available via traditional retail outlets. Now that I have your attention, let's talk about the whisky.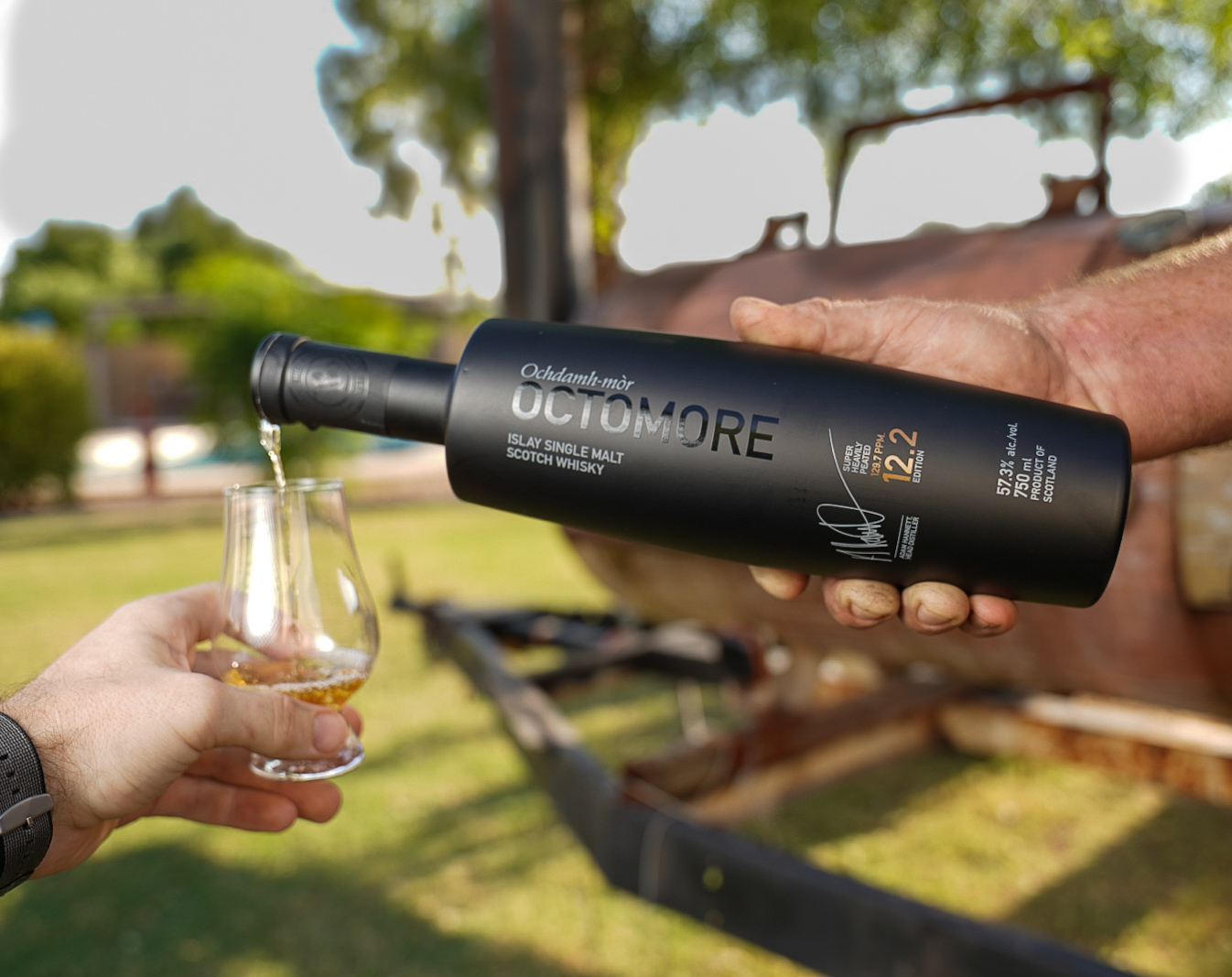 Head Distiller Adam Hannett took a 2014 harvest of 100% Scottish Concerto barley from the Scottish mainland and contracted Baird's Maltings in Inverness to smoke it to a palate-numbing 129.7 phenol parts per million (ppm) of peat. After a slow distillation in Bruichladdich's tall, thin-necked stills in 2015, this spirit was split into two parcels and matured in halves: one in first-fill and another in second-fill American ex-bourbon barrels. Those barrels all rested in Bruichladdich's own Islay warehouses on the shores of Loch Indaal, breathing in the brine-flecked sea air and expelling the Angel's Share. This "base" maturation developed the structure and backbone of the whisky, the canvas if you will, to support what would come next.

After three years of this initial maturation, Adam vatted those parcels together into first-fill French Sauternes casks - still dripping with unctuous Sauternes wine - and allowed them to soak in all of that summery sweetness for another two years. The end result was bottled in February 2021 with an added drop of Octomore Farm spring water (just for the principle of the thing). At 57.3% alcohol by volume (ABV), all of that peat, and 5 years (total) of aging with never a drop of added coloring and without chill-filtration, this is the truest expression of Octomore decadence since the famed 4.2 "Comus."

So what does Octomore 12.2 taste like?



The whisky takes a moment to get warmed up, initially showing only a hint of warm toast, honey, and grilled summer fruits. As it awakens, those fruits burst into sea salt-sprinkled grilled apricot and pineapple, peach compote, and sun-warmed golden raisins. Muted peat smoke is revealed in caramelized grill marks, green olives, and clear, crisp, briny barbecue smoke.

As the Octomore's silky - almost oily - texture crosses the palate, it explodes with a deluge of honeydew melon and apricot jam before a fog bank of smoky spiced peat rolls in. Sooty but not bitter French oak charcoal melds with grilled peaches, mango chutney, white pepper, and expressed orange peel.
A long and warming finish starts out with a touch of vanilla, clove, and sweet tobacco before fading into charcoal, chewy dried pineapple, and a lingering ghost of maritime peat.

Now that Octomore's x.2 is back on shelves, it's once again possible for whisky enthusiasts to collect (and taste!) all three Octomore variations and truly appreciate the concentration of all things Islay that the line represents, and the contrast between pure peat, honeyed wine, and the fruit of the local land. You'll want to try what Adam says shouldn't work – but does!


These whiskies are special. There is no doubt about that. What comes with this impossibly special spirit are options. Options for how we can best find our own enjoyment in the complexities and the simplicities. Do we want to break apart and analyze the depths of the dram or do we want to find something that is greater than the sum of the parts?

Sometimes, a whisky calls to slow down, unwind and relax with a piece of quiet contemplation. I am also a firm believer that whiskies often tend to be enjoyed best in good company. Sharing experiences with friends turns what might otherwise have been unacknowledged moments into memories that can stick with us for a lifetime. In this case, bringing together friends and good food with some old fashioned revelry is a heartily recommended choice.


More options unfold - what to give your company to eat? In finding a pairing for most things, the goal is either a contrast that accentuates differences, or a complement that intermingles with the top notes. Here, we are looking for something that matches and pushes the peaks of these flavors to new heights.


Now, what rolls in with smoke, salt, sweet and makes for a party? If you said BBQ, you're on the money!


One of the best ways to show off flavor combinations in BBQ comes through Pork Ribs. Sauternes casks added an influence of lighter fruits to the Octomore 12.2, so there is a hard push into stonefruit territory for our pairing - peach, apricot, nectarine, and mango are all fair game. Salt is salt, so that's easy, but we can really play with how we get our smoke and sweet.


In BBQ, the wood used for the fire will add subtle nuances which is an advantage that shouldn't be overlooked. Two choices stand out here - oak wood, with a mild earthy smoke, and peach wood, with sweet and fruity smoke. This is a perfect time for a "why not both" situation!


For these Pork Ribs, the sweet conduit for a lot of flavor comes from the sauce. In this case we're aiming for more of a finishing glaze than a sauce though - a flavor bomb made by simmering fruit jams and jellies with a little apple cider vinegar (a little BBQ secret). Again, we've got options here too! We can choose one or multiple of the stonefruits mentioned to work with. My glaze choice is a 50/50 mixture of peach and apricot jam with a little lemon zest, but most combinations will be great. After all, this is your party! That glaze, brushed on the ribs just before they are ready, sets up to create a delicious shimmery coating.

Hot off the BBQ, serve the ribs up family style! Gather around a table, tuck in a bib, pass around glasses of Octomore 12.2 and enjoy the explosion of flavors in front of you. This is how memories are made!

© BRUICHLADDICH DISTILLERY, ISLAY | PLEASE DRINK RESPONSIBLY.